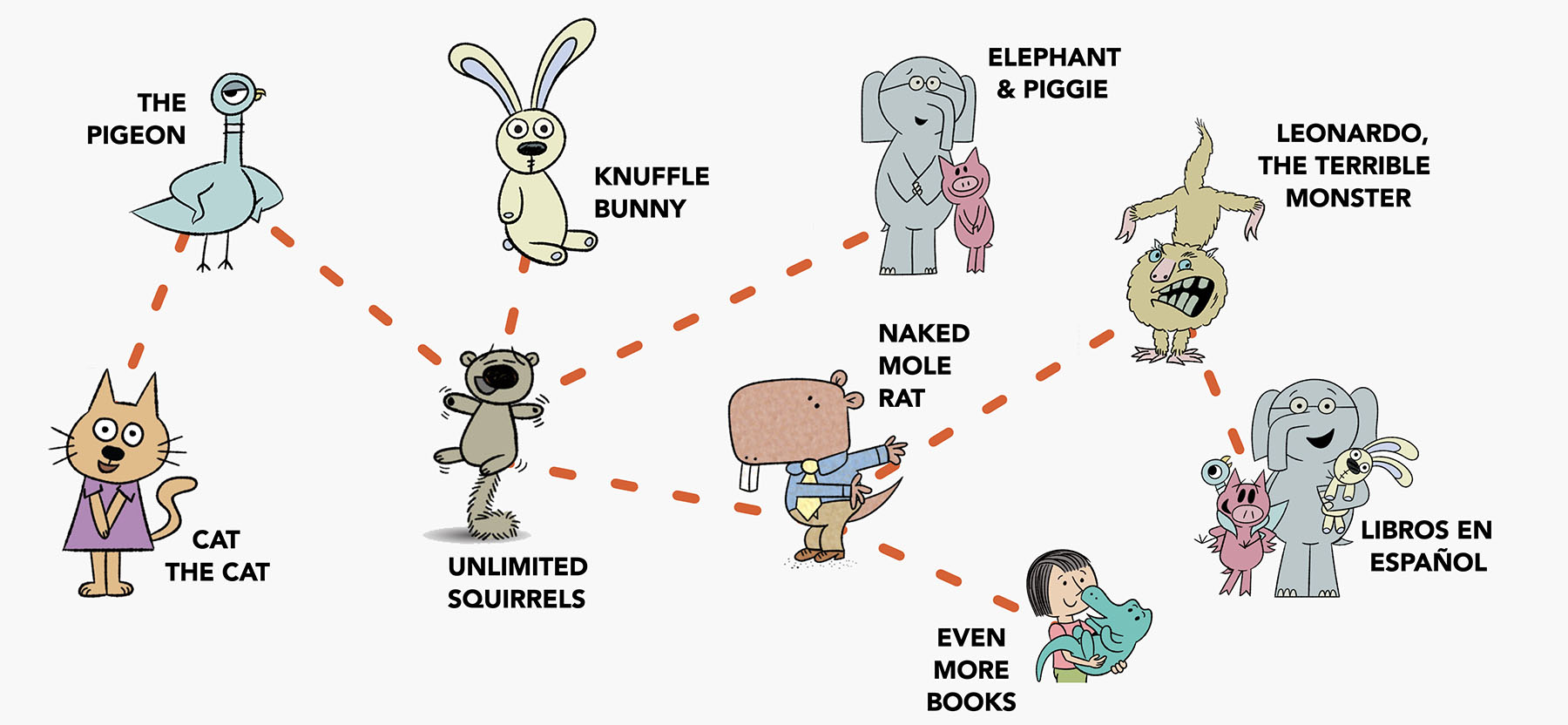 Mo Willems Launches New Website Built on Logic CMX
Award winning children's author Mo Willems is famous for his characters The Pigeon, Knuffle Bunny (pronounced Ka-Nuffle Bunny) and Naked Mole Rat (featured in an HBO Max series), has launched the Mo Willems Workshop as experiential hub for all of his creative works. Fans will find books, activities, videos, exhibits and Mo's Timeline of Awesome detailing milestones in his life and career to date. All in a safe, COPPA compliant website optimized for fun and learning!
When the team at Mo Willems Workshop decided to launch a new website and media channel, fun and safety were top of mind. Creating a safe environment online where children can visit these beloved charcters and learn first hand from Mo how to draw, create, and explore was the ultimate goal. Providing useful resources for adult fans, parents, and industry partners was also key. Logic CMX's built in book catalog module and compliance friendly features enabled the Cyber-NY team to collaborate on a website that met these unique requirements. Having the built-in video streaming capabilities further enriched the website by allowing content to remain in a child-friendly environment. Other features like Logic's age gating and geo IP capabilities, and built-in animations also played a key role in the website's development.

More About Mo
Mo Willems is an author, illustrator, animator, and playwright. He was the inaugural Kennedy Center Education Artist-in-Residence (2019-2022), and he continues to collaborate in creating fun new stuff involving classical music, opera, comedy concerts, dance, painting and digital works with the National Symphony Orchestra, Washington National Opera, Ben Folds, Yo-Yo Ma, and others.
Willems is best known for his #1 New York Times bestselling picture books, which have been awarded three Caldecott Honors (Don't Let the Pigeon Drive the Bus!; Knuffle Bunny: A Cautionary Tale; Knuffle Bunny Too: A Case of Mistaken Identity), and his celebrated Elephant and Piggie early reader series, which has been awarded two Theodor Geisel Medals and five Geisel Honors.
Mo's art has been exhibited around the world, including major solo retrospectives at the High Museum (Atlanta) and the New-York Historical Society (NYC). Over the last decade, Willems has become the most produced playwright of Theater for Young Audiences in America, having written or co-written four musicals based on his books.