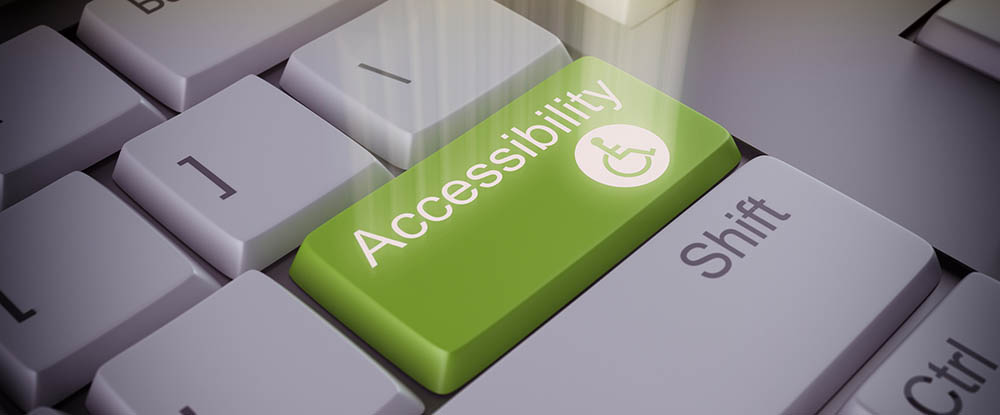 Cyber-NY's guide to common questions, concerns, and solutions.
The Americans with Disabilities Act (ADA) Standards for Accessible Design may have been published nearly a decade ago, but the increased pressure for websites to comply with these standards is dramatically on the rise. New to ADA Compliance? Want to avoid the risk of litigation, penalties, and fines? Let us be your guide.
COMMON QUESTIONS
What is ADA Compliance?
The DOJ has a set of regulations that determine if your website or electronic media is accessible to individuals with disabilities, specifically individuals who have a visual impairment or low vision.
Is my website ADA Compliant?
No. That's the short answer. Unless you have taken active measures to scan and revise your website, it is almost certain that it is not up to ADA standards.
Does my website need to be ADA Compliant?
The short answer? Yes. Law firms and compliance agencies are actively seeking out non-compliant websites and issuing letters, warnings, and in some cases legal action. While some industries face higher scrutiny, (financial, housing, healthcare, insurance, and public institutions) the DOJ has made it clear that all non-compliant websites are considered discriminatory and will not be tolerated.
How does ADA Compliance change my website?
Changes include content, design, and back-end code. A full redesign of your website is unlikely, but several major aspects of your layout must be adjusted. Below is a list of eight common concerns.
EIGHT COMMON CONCERNS
Layout: Use high contrast colors so that all text is easily read against background colors.

Replace image text (text embedded within the image) with HTML text.


Content: All titles and navigation must clearly describe and inform without the need for visual cues.


Scalable Type: All text must be able to scale up (display larger) using the browsers zoom feature without breaking the layout.


Navigation: Must be logical, set up in a proper hierarchy, and readable from an electronic text reader. Tabbed sections containing text must be organized to read the title, and then the content within the tab before proceeding to the next tab.


Key Commands and Tabbing: All elements on the page must be accessible in proper order by using the tab key and common key commands.


Images: All images must contain relevant and unique captions and/or alt image tags.


Forms: Field order must be arranged so that the user may tab from field to field in the correct order.

All fields and selection options are required to have labels that explain the field and are readable by an electronic page reader.


Scanning & Certification: The completed website should be scanned and certified.

Details on certification and accessibility can be placed within the website's footer.
TWO STEPS YOU CAN TAKE RIGHT NOW
Cyber-NY can assist with this process. The first step is to determine your risk and the extent of accessibility issues. Depending on your needs, we can take two approaches:
ADA Lite: Cyber-NY completes accessibility scans and implements updates until the website falls within a range of compliance acceptable for your industry, budget, and potential liability.

This is a lower cost solution that can help avoid accessibility and compliance issues and place your organization in a better position to defend against claims or penalties.


ADA Certified:

Cyber-NY can engage a certified third-party compliance agency to independently scan your website and pass results to Cyber-NY for remediation.

Upon addressing all issues, the agency will certify and, in some cases, insure against claims.

Although this process adds additional cost, it provides a higher level of testing, protection, and documentation.
Ready to get started?
Sign up for a free scan and evaluation. We'll then provide recommendations and cost estimate.