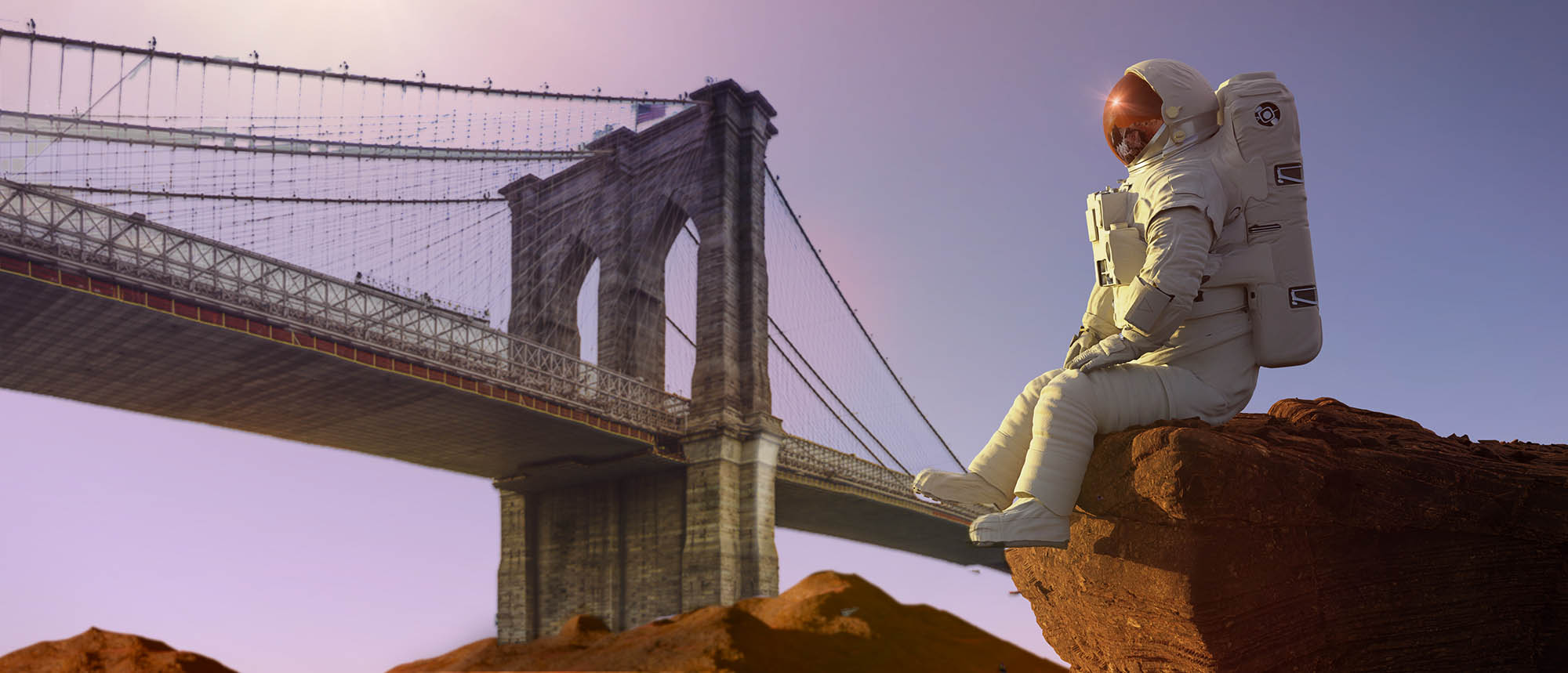 CYBER-NY is proud to announce our first annual Brooklyn Science Fiction Film Festival (BSFFF), as a weeklong online celebration to run this September 14-20, 2020.
The festival will be streamed online on CYBER-NY's Logic Virtual Cinema platform, developed to provide filmmakers, theaters, and distributors with a scalable solution for on-demand video.
Provided it can be done safely and without violating the city's social distancing protocols, the BSFFF will feature live screenings, panels, an award ceremony, as well as a closing night party on September 19th, at the comfortably glamorous Wythe Hotel in Brooklyn.
While planning for the festival began last year, the current state of the world in the midst of a global pandemic only makes the need for artistic expression through the genre of science fiction that much more poignant and timely. And from the moment it was conceived, the BSFFF was designed to be primarily an online experience, making this event not only unique in the ever-expanding galaxy of film fests, but truly built for our quarantined lives.
"The fact that we are all suddenly living in a science-fiction future we couldn't have imagined just a few months ago makes the Brooklyn SciFi Film Festival feel more necessary than ever,"
- Michael Brown, founder of CYBER-NY and BSFFF's Executive Director.
The BSFFF is on a mission to bring the best independent science fiction films to one of the most innovative and creative hubs in the world: Brooklyn. The first of its kind, this thrilling seven-day event will feature over 40 independent works by some of the most dynamic minds in the genre. Our panel of judges will select the best films for recognition and live screenings, and all selections will be available to stream online with a festival pass.
Filmmakers will be recognized in the following categories:
Best Feature Film - Awarded to the best feature length entry selected by our committee.
Best Live Action Short Film - Awarded to the best live action (non-animated) short film (15 minutes or less) selected by our committee.
Best Animated Short Film - Awarded to the best animated (non-live action) short film (15 minutes or less) selected by our committee.
Best Student Short Films - Awarded to filmmakers under the age of 18, with recognition according to age and/or grade level (depending on number of entries).
Best College Short Films - Awarded to filmmakers between the ages of 18 and 26, and currently attending a film program at a recognized college, university, or certificate program.
Best In Brooklyn - Awarded to the best entry shot in Brooklyn or directed by a Brooklyn based filmmaker (Currently living in Brooklyn).
Honorable Mentions - All Categories TBD
Submissions and other information can be found here:
https://filmfreeway.com/BrooklynSciFiFilmFestival
To be sure you are among the first to hear any news related to the festival, connect with the BSFFF here:
https://brooklynscififilmfest.com/
Contact: Mac Montandon
Press & Media Specialist
718.813.7091